Working with migrants and migrant organisations in Nepal
Adapted from UNESCO Chair in ICT4D page which first appeared on 30 January 2023.
The UNESCO Chair in ICT4D's work package (WP9) within the MIDEQ Hub is explicitly intended to be an intervention package, using our research and networks to facilitate migrants and tech developers to craft inerventions that will reduce the inequalities in the lives of migrants. After three years of research, focusing on the Nepal-Malaysia corridor (see working papers on Uses of digital technologies by Nepali migrants in Malaysia, and Uses of digital technologies by Nepali migrants and their families), the team have been actively engaged in designing such interventions with migrants, migrant organisations and tech developers in Nepal since September 2022, supported by the MIDEQ country lead organisation NISER. This work is led by Professor "Hari" Harindranath, supported by Professor Tim Unwin and Dr. Maria Rosa Lorini.
The main organisations with which we are currently working are: AMKAS, AuraEd, Gandaki University Pokhara, GSMA, Helvetas SaMi (and the MIrgant Resource Centre in Pokhara), National Innovation Centre (NIC), NNSM, PNCC, Pourakhi, and the UNESCO Office in Kathmandu. Other organisations that have contributed to the development of this intervention are: Hamropatro, Ujyaalo Online, and IME.
Our Nepali colleagues have identified two main types of intervention that they believe are necessary for Nepali migrants to be able to use digital technologies most effectively for improving their lives: the creation of a clear and simple information platform where migrants and their families can easily find out information and links about all aspects of migration, and training materials on the safe, wise and secure use of digital tech. This page provides an overview and links about these interventions.
The platform: Pardesiko Sarathi
The team agreed on an initial content stucture for the platform (see below – click for larger image), and agreed to create a content team and a tech team to take this work forward, with a beta version of the platform being made available by May 2023.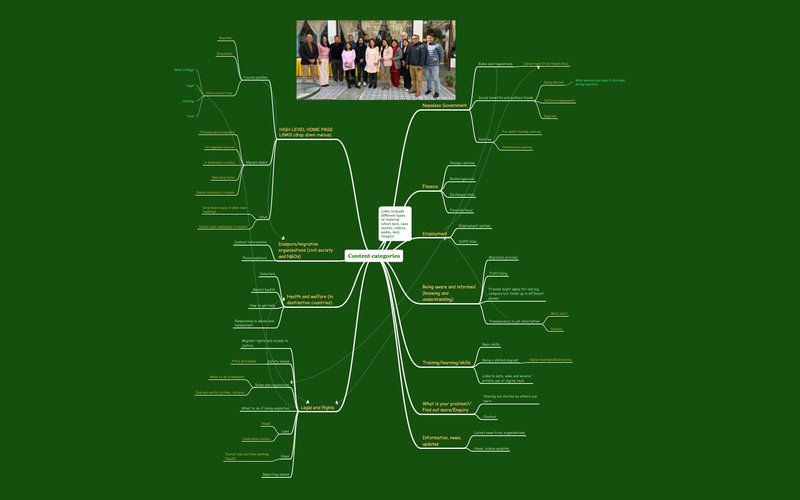 Training resources for migrants and migrant organisations
The second main intervention is the crafting of basic training resources in Nepali about the safe, wise and secure use of digital tech for migrants and organisations concerned with improving their lives. Many such such resources have been created across the world since the early 2000s (see for example the early work by Imfundo in Africa), and so we had not expected that there was still a need for such material, but our research has shown that many migrants and their families remain unaware of key issues that could help them to benefit from the use of digital tech whilst mitigating the potential harms in so doing.
During our work in Nepal in January 2023 we explored with some of the returned migrants who were helping to shape our interventions whether they might like to share some of their experiences on using digital tech that might be of help to other migrants. This idea also drew on our ongoing work in training migrants in South Africa to develop their own videos about using digital tech. The videos below (in Nepali and all around one minute long) exemplify some of their experiences (summary translations into English by Sarmila Mainali).
Videos
Click names below to access these videos by returned migrants on their experiences and advice about using digital technologies.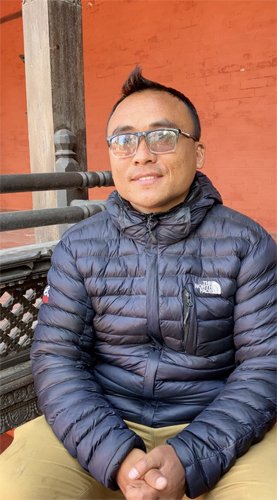 Shyam Lama (A returnee from Saudi Arabia)
Video summary: Shyam went to Saudi Arabia for foreign employment as a driver. Before leaving, he was told about his salary and a job description but when he reached his destination he found that the situation was quite different. He had to work for more than 8 hours a day at a low salary and had not been told about the type of vehicle he was to drive. Given the situation, he was not satisfied with the salary, working hours, and treatment at the workplace. He felt exploited and wanted some help and advice. He did not even have any idea how to approach the Nepal embassy. He recommends that all prospective migrants should use the Internet to find out all the details of foreign employment before their departure. 
---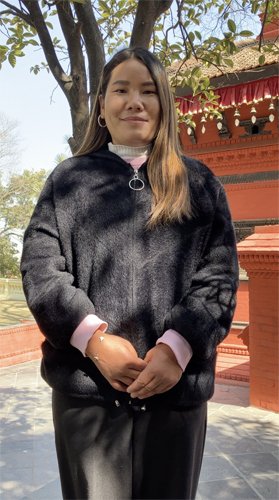 Hem Maya Rana Magar (A returnee from Dubai)
Video summary: She shares her experience abroad when she did not have access to the Internet. She  could not communicate with her family back home then using regular phone calls because it would have been too expensive.  Likewise, she always wanted to see her family but was also unable to see them on a video call.  However, she can now use different apps such as Viber, WhatsApp, and Messenger using the Internet. She wishes she should have learnt about how to do this before leaving Nepal because it would have been very helpful when working abroad. She has realised that digital literacy is very crucial in our lives and she suggests that every aspiring migrant must have this knowledge and skill before leaving their country for foreign employment.
---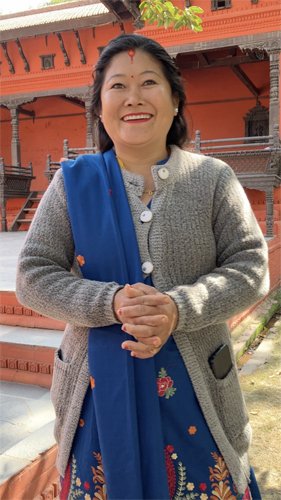 Sapana Shahi (A returnee from Cyprus)
Video summary: She realises that work-related skills are a vital element that must be learnt by every prospective migrant before their departure. In addition, they must know about the social and cultural aspects of the destination country, and they can do this online while preparing to fly there for a work opportunity. She also emphasises the importance of digital literacy plus the skill to use the Internet. She is now familiar with online payments such as paying the electricity bill plus the children's education fee and she appreciates the support that she gets from the Internet in her daily life.
Training on the safe, wise and secure use of digital tech
Working together, and drawing on existing good practices globally, we have also developed a basic slide-deck in Nepali and English (under CC BY-SA licence) that anyone can draw on to train migrants in the safe, wise and secure use of digital tech. This was originally designed to be used for training migrants and their families in the centres that they attend prior to departure, but we are also developing a range of other materials (including pamphlets and posters) that draw on these basic principles. Click on the links below to see .pdf versions of the slide decks (or download .pptx files from links beneath). These are available in the six main Nepali languages: Nepali, Maithili, Bhojpuri, Tharu, Tamang and Nepal Bhasa (Newar).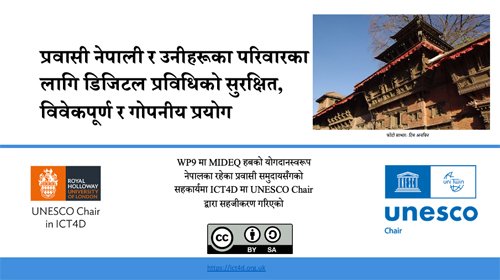 Nepali translation by Nayan Pokhrel (.pptx version)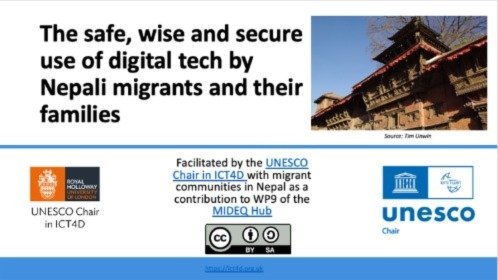 English version (.pptx version)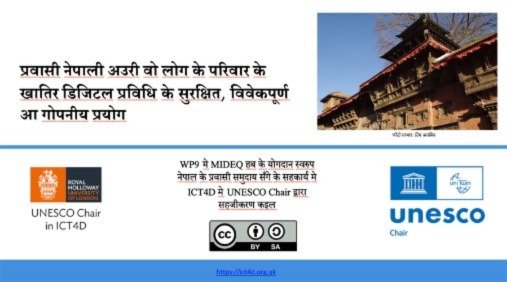 Bhojpuri translation by Bibek Karn (.pptx version)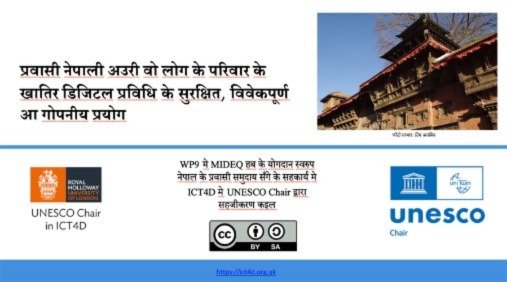 Maithili translation by Ranjan Jha (.pptx verrsion)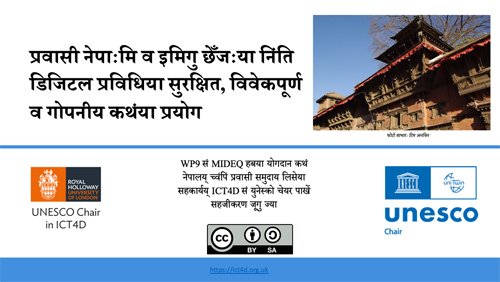 Nepal Bhasa translation by Rajendra Maharjan (.pptx version)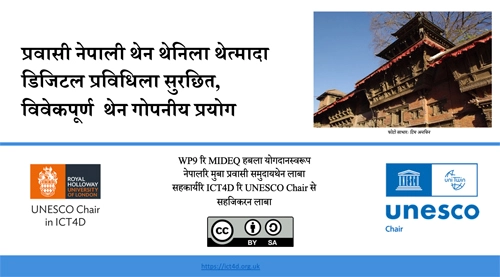 Tamang translation by Amrit Yonjan Tamang (.pptx version)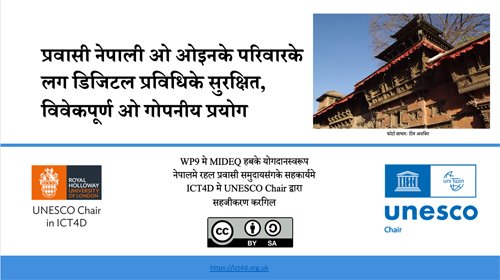 Tharu translation by Indu Tharu (.pptx version)
Feedback from the organisations with which we are working in Nepal
Click on the links below to hear about our working processes from some of the organisations involved in designing and implementing the interventions: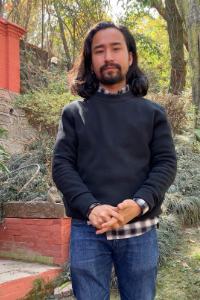 Ayush Pradhananga (AuraEd)
https://bit.ly/UNESCOICT4D-r-N4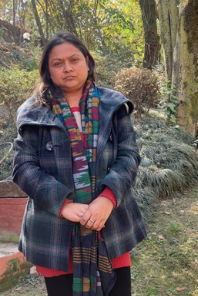 Sindhu Aryal (Pourakhi)
https://bit.ly/UNESCOICT4D-r-N5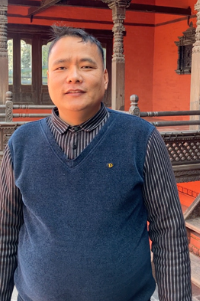 Aviman Singh Lama (Pravasi Nepali Coordination Committee)
https://bit.ly/UNESCOICT4D-r-N6
Feedback from returned migrants who participated in our workshops
The discussion was interactive. I really liked that. Everybody present here is working towards the betterment of migrants; they are working towards the safe and secure migrant, which is great.
Translated feedback from a returned migrant participating in the workshop on 28-29 January 2023
Overall, I enjoyed the two-day workshop. If I have to select one aspect about it, definitely I learnt more things about safe and wise use of the digital technology. The learning has become very fruitful for me, and I am planning to share it with others as well.
Translated feedback from a returned migrant participating in the workshop on 28-29 January 2023