Digital tech, inequality and migration
Digital technologies and inequality is one of MIDEQ's intervention work packages. As part of their Impact Initiatives, the team is currently working with migrants, migrant organisations, and tech companies with the support of international organisations to co-design and implement sustainable digital interventions that will help to reduce migrant-defined inequalities in Nepal and South Africa. The relationships the team has nurtured with stakeholders in Nepal and South Africa, especially with the help of the MIDEQ country leads there, provide a sound basis for the intervention plan.
These impact initiatives aim to contribute towards migrants' well-being and empowerment through skills development, shared knowledge dissemination, increased networking amongst stakeholders (particularly international organisations, local organisations working with migrants, local technology developers and academia) and peer-to-peer encounters and exchanges.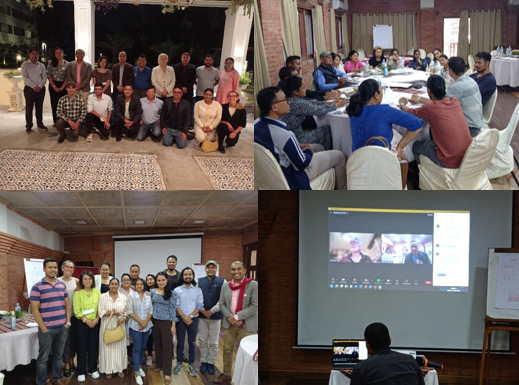 Nepal
Work in Nepal kicked off in September 2022 with a sandpit and workshop led by MIDEQ colleagues Hari and Maria Rosa with Tim joining remotely. The event brought together five organisations representing migrants (AMKAS, Pourakhi, PNCC, NNSM and Helvetas' SaMi project), five returnee migrants (two women and three men), six digital tech/media organisations (Ujyaalo Online, Hamro Patro, IME, AuraEd, NIC and GSMA), and six researchers (three from NISER Nepal and three facilitators from the UNESCO Chair in ICT4D at Royal Holloway, University of London) to collectively work together to arrive at ideas for one or more digital interventions that can be beneficial to migrants, returnees and their families in Nepal. The workshop resulted in three main ideas for digital interventions which are now in full swing with a further visit planned for late January 2023.
Migrant Navigator (Pardesiko Sarathy), a one-stop-shop for migrants using digital tech - This intervention aims to develop a digital gateway/portal that provides links to all migration related information in one place that can be trusted by migrants.
Preparing migrants for secure, safe and wise use of digital tech – Here the focus is on developing a one-hour digital preparedness programme on secure, safe and wise use of digital tech by migrants in the local languages.
Information sharing and awareness for migrants – This intervention will ensure that the first two are disseminated to address the widespread lack of awareness of migration related processes, apps and information.
The intervention work is also being supported by the National Innovation Centre in Kathmandu and Pokhara and Gandaki University in Pokhara where the team is engaging with a Migrant Resource Centre run in partnership with Helvetas' SaMi project.
South Africa
In South Africa, the digital interventions aim to address inequalities and discrimination faced by migrants and to provide migrants the basic skills in using digital tech safely and wisely. Three sets of activities led by Maria Rosa in Johannesburg and Cape Town were completed in late 2022, with a subsequent visit planned in early-mid 2023. These were undertaken with the support and collaboration of local organisations working with migrants in Cape Town and Johannesburg including the Scalabrini Centre, DWAZ, UNISA, UCT, video production company (Stone in the Shoe), and digital literacy trainers. The team is working on the following below:
A series of videos by migrants for migrants developed in Johannesburg and Cape Town – These videos, created by migrants with the support of local professional video makers, cover a range of issues affecting migrants including the safe use of digital tech as well as lifestyle matters relevant to migrant communities. The videos help migrants share their knowledge while their role as content creators and presenters provide authenticity for the issues covered and create a trust effect among migrant communities. Check out some of the videos created by migrants here.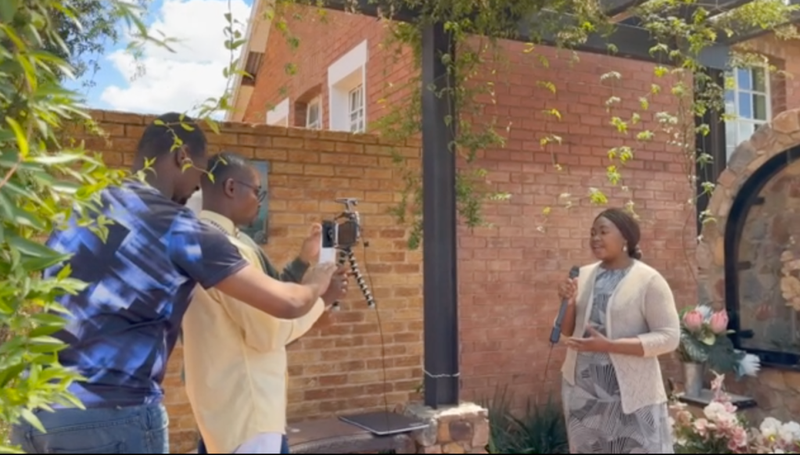 Workshops on communication, video creation and editing - The video creation intervention was accompanied by five-day workshops in both Cape Town and Johannesburg involving migrants and digital tech experts and professional video makers. The co-design workshops were based around themes of interest to the migrants leading to the creation of videos. The workshops also focused on the safe and secure use of digital technologies as well as ethical aspects related to the creation of video content.
Co-design workshops developing peer-to-peer networks and improving digital skills – This intervention involved workshops in both Johannesburg and Cape Town to train community leaders and activists in the building of safe offline solutions to connect groups of migrants residing in the same neighbourhood. Such networks will support those connected in emergency situations even when no mobile data is available, and they provide a means to coordinate support for vulnerable people as well as to share migrant-related information, including the videos created by migrants.
Follow-up visits to both Nepal and South Africa will include further collaborative efforts to learn lessons from the experiences as well as to ensure that these interventions are sustainable beyond the life of the MIDEQ project.