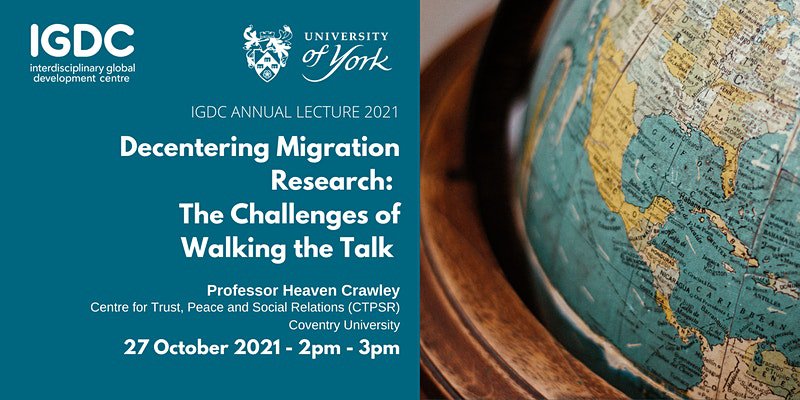 Hosted by the Interdisciplinary Global Development Centre (IGDC), in collaboration with the University of York's Migration Network, this year's annual lecture is on 27 October at 14:00 BST (GMT+1). Registration details can be found on Eventbrite.
Although migration between the countries of the Global South is increasingly significant in terms of its scale, complexity and consequences, migration research typically focuses on the movement of people to the countries of the Global North reflecting, in significant part, the empirical, political and policy interests of researchers and funding bodies. Drawing on her experiences as Director of the MIDEQ Hub, Professor Heaven Crawley explores the challenges of 'walking the talk' when it comes to decentering migration research.
MIDEQ is the UK's largest GCRF-funded project bringing together partners from 12 countries in the Global South to tell a new and very different story of migration and its relationship to inequality. But this process has been far from straightforward. From pulling together the funding proposal, to designing the research, undertaking the data collection and dealing with the fallout from sudden and dramatic funding cuts, the project's researchers have been in an almost constant tussle with dominant assumptions about what and whose knowledge 'counts', how to ensure 'equitable partnerships' in the context of deep and long standing inequalities access to resources for the production of knowledge, and how to address the migration-related inequalities which often stretch beyond borders in contexts where the political focus is on national interests and priorities.